It's been quite a long time since we've done a Transformation Tuesday Link Party here at The Nest, but I think it's time to bring it back each week. I really enjoy seeing all of your incredible transformation projects every week and I've truly missed it. Have you?

To get this transformation party started, I thought I'd show you a photo of The Ironstone Nest workshop location transformation:

It looks a little different, wouldn't you say?

We needed a sink in the space for cleaning brushes and such, and I wanted it to look like a farmhouse so the hubby built the counter out of barn wood boards and pallet wood. The cast iron Kohler sink was a Craigslist purchase and I asked my wonderful sister-in-law to make the drop cloth curtains to hide supplies and such that are stored underneath. It all works perfectly. We love it!

People often ask about the old door on the left. It's simply an old, chippy door that we mounted to the existing door to add some depth and more character.

But now it's YOUR turn to share your latest and greatest transformation projects. I can't wait to see what you've been up to and the beauty you've been creating.

____________________________________________________________________________________________
Visit the links that catch your eye and click "like" if you dare!!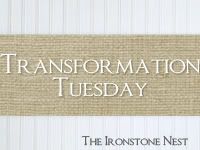 Here are the rules:
1.  Please become a follower or email subscriber of this blog.  I thank you for the support!


2.  Please link to something that is relevant to this blog's topics (please feel free to link up to 2 projects).  For example, a remodel, room reveal, before & after, craft, or DIY project.  No businesses or Etsy shop links please.  This is for projects ONLY.
3.  Link to your specific post, NOT your home page, please.
4.  Please add the Transformation Tuesday button or a link to this post to your post so more people can learn about the party . . . the more people that see the button, the more people that will see your posts, and therefore, your blog!
5.  Please check out other linked projects and be sure to "like" the ones that catch your eye because features will be chosen based on the number of views/likes it receives!
____________________________________________________________________________________________

Americans who are facing divers health problem, such individuals can get medicines from the Web without order. To buy remedies online from a having a good reputation source is safe. People get millions divers medicaments online. Far-famed are medicines which are used to reduce treat hurt caused by cramp etc. There are varied other medications. What about how does cialis work and sexual health problems? Likely every man knows at least something about Does Cialis Work. Also known as erectile disfunction is defined as the inability to attain an hard-on suitable for intercourse. Luckily many problems with sexual health can be solved. Sometimes men who drink excessively like amphetamines find it embarrassing to get an erection and turn to erectile malfunction medicines for a temporary solution. If you have unpleasantness getting an erection, it's vital to see a competent soundness care occupational before pursuing any sort of medicines. Do not take more of Cialis or any other preparation than is prescribed. Do not use out-of-date remedies. Take them to your local dispensary which will dispose of them for you.