IT'S TIME FOR ANOTHER GIVEAWAY! But this time we're gonna go a little over the top, if you don't mind?!?!
Maybe some of you have heard the exciting news? The Ironstone Nest has been invited to Nashville, Tennessee in October to be a vendor at the Pop-Up Barn Show hosted by the fabulous husband and wife team of City Farmhouse!   If you don't know about City Farmhouse, and you love "found" objects, then get on over to City Farmhouse and follow along and drool over all of the amazing items they find.  Frankly, I'm glad I live so far away because I'd probably be broke if I could visit their shop on a regular basis.  My house would look fantastic, but I wouldn't be able to feed my family.
Here's a little sample of what you can expect to see if you ever are blessed enough to make it to City Farmhouse:
When you visit City Farmhouse, you may also be lucky enough to meet Kim and her husband, David. They are the real deal, not only do they have a talented eye, but they are some of the nicest people I have ever met. You may recall we had the pleasure of meeting them when we visited Nashville back in March and I blogged about it here.
Because we made such a genuine connection with them, they invited us to come down and be a part of their very first outdoor vendor show and here is the lovely property where this exciting event will take place:
If you're anywhere near Tennessee, I highly recommend you make your way to this show. There are over 66 vendors (and growing), 5 performing artists and 9 special guests demonstrating everything from putting together fall floral designs to a live culinary demonstration to magazine signing (Ki Nassauer from Flea Market Style Magazine & Junk Bonanza) and even a LIVE Miss Mustard Seed Milk Paint demonstration and Q & A given by yours truly! There is guaranteed to be something for everyone during this 2 day event.
And guess what? Kim and David are offering to give away 2 tickets (valued at $70) right here on this blog to one very lucky winner!
To enter for your chance to win 2 tickets (valued at $70), here are the rules:
Entry One:  Please leave a comment here telling me what item(s) you'd be hunting for if you win the tickets and come to the show!
Entry Two: "LIKE" The Ironstone Nest Facebook Page and leave a third comment.
Entry Three: "LIKE" the City Farmhouse Facebook page and leave a third comment.
Entry Four:  Share this giveaway on your Facebook page and leave a comment letting me know you shared it.
This giveaway is only open to those living within the continental US and readers who are age 18 and older. The giveaway will end Monday, August 26, 2013, at midnight PST and one winner will be randomly chosen by Random.org and announced on Tuesday, August 27.
Good luck to you!
____________________________________________________________________________________________
And it's Transformation Tuesday Link Party again, everyone.  So link up your projects and let's see what you've been up to!
Visit the links that catch your eye and click "like" if you dare!!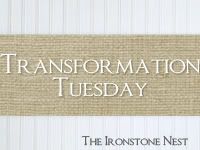 Here are the rules:
1.  Please become a follower or email subscriber of this blog.  I thank you for the support!
2.  Please link to something that is relevant to this blog's topics (please feel free to link up to 2 projects).  For example, a remodel, room reveal, before & after, craft, or DIY project.  No businesses or Etsy shop links please.  This is for projects ONLY.
3.  Link to your specific post, NOT your home page, please.
4.  Please add the Transformation Tuesday button or a link to this post to your post so more people can learn about the party . . . the more people that see the button, the more people that will see your posts, and therefore, your blog!
5.  Please check out other linked projects and be sure to "like" the ones that catch your eye because features will be chosen based on the number of views/likes it receives!
________________________________________________________________________________________________



Americans who are facing divers soundness problem, such individuals can get medicines from the Web without order. To buy remedies online from a having a good reputation source is safe. People get millions divers medicaments online. Far-famed are medicines which are used to reduce treat hurt caused by cramp etc. There are varied other medications. What about how does cialis work and sexual soundness problems? Likely every man knows at least something about Does Cialis Work. Also known as erectile dysfunction is defined as the inability to attain an erection suitable for intercourse. Luckily many problems with sexual health can be solved. Sometimes men who drink excessively like amphetamines find it embarrassing to get an erection and turn to erectile malfunction medicines for a temporary solution. If you have unpleasantness getting an hard-on, it's vital to see a able heartiness care professional before pursuing any sort of medicines. Do not take more of Cialis or any other medicament than is prescribed. Do not use out-of-date remedies. Take them to your local dispensary which will dispose of them for you.