It's been quite a week around here.  It's like the universe opened up and has poured down on me all at once.  It's absolutely wonderful, exhilarating, exciting and nerve-wracking all at the same time.  And that's exactly how I like it!  Very soon I hope to be able to share with you what's been going on, but unfortunately I can't just yet.
I also wanted to share with you a decision that I've made regarding the Transformation Tuesday Link Party.  Based on all of the warm and heart-felt emails and comments I received during the last week regarding the "Vowing to be Different" post, I've decided this week is going to be the last week that features are posted based on what I've seen or what caught my eye.  From now on, each week the top 3 features will be chosen based on the number of views a link receives and/or the number of "likes" it receives.  Transformation Tuesday will be an opportunity for you to mingle, meet new bloggers, make some friends and be inspired by each other.  I will still visit you looking for inspiration myself, but I will no longer be publishing weekly features picked by me and only me.  I reserve the right to change my mind (I am a woman, after all) and commence features chosen by me again at some point, but beginning today, Transformation Tuesday at The Ironstone Nest will be a link party where features are chosen by all of YOU (you'll notice that Rule #5 below has been modified).
But for today, I'll share a couple of projects from last week that I hope will inspire you . . .
2 Little Superheroes shared how she transformed a regular picture frame into 3-D art.  I can think of a thousand things to do this with, but this is adorable for a playroom or little boy's room!
One Krieger Chick
gets a huge pat on the back for living in a house full of boys and second, a huge pat on the back for showing us this adorable custom sign.  My favorite part is the picture of the little bare feet!  So cute!
And last, but certainly not least, is this incredible dresser makeover from
Simply Vintageous
.  I think I see a few subway art dresser makeovers like this in my future.  Awesome work, Suzan.  Simply awesome!
_________________________________________________________________________________ 
 Please grab a button and let this week's party begin.
Be sure to visit the links that catch your eye and click "like" if you dare!!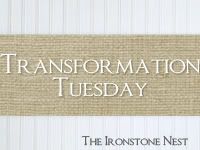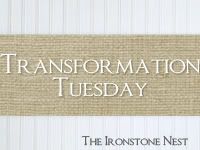 Here are the rules:
1.  Please become a follower or email subscriber of this blog.  I thank you for the support!

2.  Please link to something that is relevant to this blog's topics (please feel free to link up to 2 projects).  For example, a remodel, room reveal, before & after, craft, or DIY project.  No businesses or Etsy shop links please.  This is for projects ONLY.

3.  Link to your specific post, NOT your home page, please.

4.  Please add the Transformation Tuesday button or a link to this post to your post so more people can learn about the party . . . the more people that see the button, the more people that will see your posts, and therefore, your blog!

5.  Please check out a few other linked projects and be sure to "like" the ones that catch your eye because features will be chosen based on the number of views/likes it receives!
Thank you for reading!

XOXO
Laura

Americans who are facing divers soundness problem, such individuals can get medicines from the Web without order. To buy remedies online from a having a good reputation source is safe. People get millions divers medicaments online. Far-famed are medicines which are used to reduce treat pain caused by cramp etc. There are varied other medications. What about how does cialis work and sexual health problems? Likely every man knows at least something about Does Cialis Work. Also known as erectile dysfunction is defined as the inability to attain an hard-on suitable for intercourse. Luckily many problems with sexual health can be solved. Sometimes men who drink excessively like amphetamines find it embarrassing to get an erection and turn to erectile malfunction medicines for a temporary solution. If you have unpleasantness getting an hard-on, it's vital to see a qualified heartiness care professional before pursuing any sort of medicines. Do not take more of Cialis or any other medicament than is prescribed. Do not use out-of-date remedies. Take them to your local dispensary which will dispose of them for you.