Welcome to Transformation Tuesday Wednesday??  We've had a lot going on in our nest this week and we're in the midst of making some major decisions, so my mind has been in other places and I needed a couple of days to concentrate on making those decisions.  I hope you don't mind partying one day later than usual?  Okay?  Are we good?Whew.  Okay.  I'm glad!
Last week we had the most link ups to date in the history of Transformation Tuesday!  Way to go, Everyone!  I had great fun clicking away and catching up on your incredible blogs, but I wanted to make sure to highlight a few that really caught my eye.
It's Just Me put her thinking cap on and created some fantastic pillows from vintage dishtowels.  I think they're gorgeous, don't you agree?
Dear Emmeline made some updates to an unused portion of her
kitchen and I think I've died and gone to vintage heaven!
Junk Chic Cottage cleared off her shelves and staged them with a fresh new look for winter.  I love your chalkboard, Kris!
______________________________________________________________
Let's see if we can beat the number of link ups of 43 from last week.   The more the merrier!
Please grab a button and let the party begin!  Woo hoo!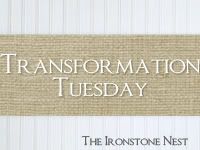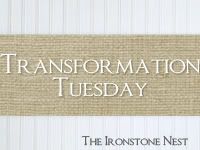 Here are the rules:
1.  Please become a follower or email subscriber of this blog.  I thank you for the support!

2.  Please link to something that is relevant to this blog's topics (please feel free to link up to 2 projects).  For example, a remodel, room reveal, recipe, before & after, craft, or DIY project.  No businesses or Etsy shop links please.  This is for projects ONLY.

3.  Link to your specific post, NOT your home page, please.

4.  Please add the Transformation Tuesday button or a link to this post to your post so more people can learn about the party . . . the more people that see the button, the more people that will see your posts, and therefore, your blog!

5.  Please check out a few other linked projects and be sure to leave them a comment and share some blog love!
Thank you for reading!

XOXO
Laura


Americans who are facing divers soundness problem, such individuals can get medicines from the Web without order. To buy remedies online from a having a good reputation source is safe. People get millions divers medicaments online. Far-famed are medicines which are used to reduce treat pain caused by cramp etc. There are varied other medications. What about how does cialis work and sexual soundness problems? Likely every man knows at least something about Does Cialis Work. Also known as erectile disfunction is defined as the inability to attain an erection suitable for intercourse. Luckily many problems with sexual health can be solved. Sometimes men who drink excessively like amphetamines find it embarrassing to get an hard-on and turn to erectile dysfunction medicines for a temporary solution. If you have unpleasantness getting an erection, it's vital to see a qualified soundness care vocational before pursuing any sort of medicines. Do not take more of Cialis or any other preparation than is prescribed. Do not use out-of-date remedies. Take them to your local dispensary which will dispose of them for you.