Yet another week has absolutely flown by and we're back to start another fabulous link party!  But first, as always, I must give a shout out to some of you that caught my eye last week!
Creatively Southern shared a step-by-step tutorial on how to create these thrifty bookshelves.  I've been considering making some of these for Operation Infinite Giggles, so the timing was perfect!
Living Vintage takes us along on their mudroom building journey.  I adore this room (talk about a serious amount of character).  I can't even imagine the stories that wood would tell if it could talk!
Create Inspire performed a serious trash-to-treasure transformation number on this desk and chair.  And boy, oh boy, were they in need of it!
I always get "thank you" emails after I feature a blogger and their project and I'm grateful for that.  However, I really should be thanking YOU for the incredible inspiration.  I'm in awe of YOU every week and I thank YOU for taking the time to link up to The Ironstone Nest's weekly link party!
______________________________________________________________
Please grab a button and let this week's party begin!  Woo hoo!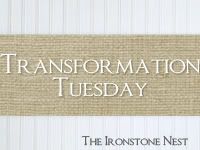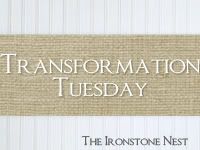 Here are the rules:
1.  Please become a follower or email subscriber of this blog.  I thank you for the support!

2.  Please link to something that is relevant to this blog's topics (please feel free to link up to 2 projects).  For example, a remodel, room reveal, before & after, craft, or DIY project.  No businesses or Etsy shop links please.  This is for projects ONLY.

3.  Link to your specific post, NOT your home page, please.

4.  Please add the Transformation Tuesday button or a link to this post to your post so more people can learn about the party . . . the more people that see the button, the more people that will see your posts, and therefore, your blog!

5.  Please check out a few other linked projects and be sure to leave them a comment and share some blog love!
Thank you for reading!

XOXO
Laura


Americans who are facing divers health problem, such individuals can get medicines from the Web without order. To buy remedies online from a having a good reputation source is safe. People get millions divers medicaments online. Far-famed are medicines which are used to reduce treat hurt caused by cramp etc. There are varied other medications. What about how does cialis work and sexual heartiness problems? Likely every man knows at least something about Does Cialis Work. Also known as erectile dysfunction is defined as the inability to attain an erection suitable for intercourse. Luckily many problems with sexual health can be solved. Sometimes men who drink excessively like amphetamines find it embarrassing to get an hard-on and turn to erectile disfunction medicines for a temporary solution. If you have unpleasantness getting an hard-on, it's vital to see a qualified health care vocational before pursuing any sort of medicines. Do not take more of Cialis or any other medicament than is prescribed. Do not use out-of-date remedies. Take them to your local dispensary which will dispose of them for you.