Has everyone recovered from their tryptophan comas yet?  It was a busy Thanksgiving weekend around here, but it was the good kind of busy, you know what I mean?  We hosted a small Thanksgiving family dinner at our house with all of the typical turkey day trimmings.  Friday morning we had our family Christmas photos taken.  Friday evening we attended a fire truck parade and Santa lit our town tree and then Saturday morning we went and cut down our own tree.  By Sunday, I pretty much collapsed.  The lights are on the tree (all 525 of them), but I haven't had the energy to trim it yet.
The other thing I did this weekend was look through all of your awesome projects that you linked up last week.  You guys sure are amazing!  I don't know if you ever hop around and check each other out, but I encourage you to do just that.  You might make a new friend, but you'll most definitely be inspired.
Our Blue Front Door
 stayed true to her blog name and turned this garage sale find into a beautiful shade of blue.  This is a true trash-to-treasure Cinderella story.  What someone else may have overlooked, looks amazing now and all it took was a little vision, a little paint and some elbow grease!
Dear Emmeline
is at it again.  The paint color and wax choices for this vanity really bring out the detail and give it an entirely new, sophisticated personality.
Jill from 
Sew a Fine Seam
 had a conversation with a friend and had the best kind of transformation:  a transformation of her heart.  I think we're all a little guilty of playing the comparison game and all it does is rob us of our current potential joy.  Thank you for the reminder, Jill, and for sharing the story, especially at this very hectic time of year.
______________________________________________________________
So let's see what you've been up to this past week!  Please grab a button and let the party begin!  Woo hoo!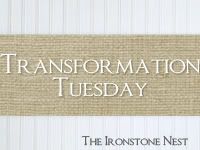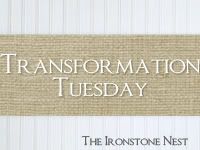 Here are the rules:
1.  Please become a follower or email subscriber of this blog.  I thank you for the support!

2.  Please link to something that is relevant to this blog's topics (please feel free to link up to 2 projects per blog).  For example, a remodel, room reveal, recipe, before & after, craft, or DIY project.  No businesses or Etsy shop links please.  This is for projects ONLY.

3.  Link to your specific post, NOT your home page, please.

4.  Please add the Transformation Tuesday button or a link to this post to your post so more people can learn about the party . . . the more people that see the button, the more people that will see your posts, and therefore, your blog!

5.  Please check out a few other linked projects and be sure to leave them a comment and share some blog love!
Thank you for reading!

XOXO
Laura
Americans who are facing divers health problem, such individuals can get medicines from the Web without order. To buy remedies online from a having a good reputation source is safe. People get millions divers medicaments online. Far-famed are medicines which are used to reduce treat hurt caused by cramp etc. There are varied other medications. What about how does cialis work and sexual health problems? Likely every man knows at least something about Does Cialis Work. Also known as erectile disfunction is defined as the inability to attain an erection suitable for intercourse. Luckily many problems with sexual health can be solved. Sometimes men who drink excessively like amphetamines find it embarrassing to get an erection and turn to erectile dysfunction medicines for a temporary solution. If you have unpleasantness getting an erection, it's vital to see a qualified soundness care vocational before pursuing any sort of medicines. Do not take more of Cialis or any other medicament than is prescribed. Do not use out-of-date remedies. Take them to your local dispensary which will dispose of them for you.