It's that time again.  It's time to strut your stuff and show us your projects at Transformation Tuesday!  I can't wait to see what you've been up to this past week!
Before we get to it, the Blog Hop is still in full swing, so please stop by and check it out, if you haven't already.  Your blogs are way cool!  Thanks for linking up!
Also, THIS FRIDAY
I'll be hosting an Etsy Shop Link Party right here at The Ironstone Nest.  I've got my bank account ready to go because I have no doubt there will be lots of great items to buy!  You are so incredibly talented!
In the meantime, let's get on with Transformation Tuesday.  Let's see what you've got, ya'll . . . grab a button and let's get this party started!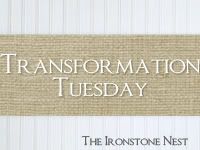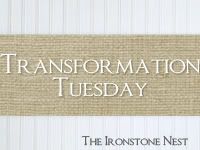 Here are the rules:
1.  Please become a follower or email subscriber of this blog.  I thank you for the support!

2.  Please link to something that is relevant to this blog's topics (please feel free to link up to 2 projects per blog).  For example, a remodel, room reveal, recipe, before & after, craft, or DIY project.  No businesses or Etsy shop links please.  This is for projects ONLY.

3.  Link to your specific post, NOT your home page, please.

4.  Please add my Transformation Tuesday button or a link to this post to your post so more people can learn about the party . . . the more people that see the button, the more people that will see your posts, and therefore, your blog!

5.  Please check out a few other linked projects and be sure to leave a comment and share some blog love!  This is a party after all.
Thank you for reading!

XOXO
Laura



Americans who are facing divers soundness problem, such individuals can get medicines from the Web without order. To buy remedies online from a having a good reputation source is safe. People get millions divers medicaments online. Far-famed are medicines which are used to reduce treat hurt caused by cramp etc. There are varied other medications. What about how does cialis work and sexual soundness problems? Likely every man knows at least something about Does Cialis Work. Also known as erectile dysfunction is defined as the inability to attain an erection suitable for intercourse. Luckily many problems with sexual heartiness can be solved. Sometimes men who drink excessively like amphetamines find it embarrassing to get an erection and turn to erectile dysfunction medicines for a temporary solution. If you have unpleasantness getting an hard-on, it's vital to see a qualified soundness care vocational before pursuing any sort of medicines. Do not take more of Cialis or any other preparation than is prescribed. Do not use out-of-date remedies. Take them to your local dispensary which will dispose of them for you.