I wanted to share a little more with you about how we got from point A to point B in OUR KITCHEN and the resources that help us get there.  I thought sharing it on Transformation Tuesday was appropriate since this was a major transformation.
I hate to show you the before picture again, but here is where we started (cringe):
The very first thing I did to change the look of this space was paint it.  Gotta love the power of paint!  I don't typically use Glidden products, but the guy at Home Depot swore up and down
that the Glidden Gripper Primer is like glue, so I gave it a try.  And he was right!  That primer bonded to the paneling and the cupboards perfectly.  I then coated everything with Behr Interior Paint in Semi-Gloss Finish in Ultra Pure White.  Yep.  I didn't even get any color added to it.  I wanted a super bright white for this space and that's exactly what we got.
We also switched out all of the knobs, hinges and drawer pulls on the cabinets and drawers with hardware from Home Depot.  The drawer pulls are my favorite.  They're vintage reproductions made by Martha Stewart.  Eventually we also switched out the black outlets for white ones.
Here's how it looked once it was all painted:
Bye bye 70's laminate countertop . . . na na na na, hey hey hey, GOODBYE!
We wanted subway tile on the backsplash, but after obtaining 3 quotes, decided to do it ourselves.  A friend of ours was nice enough to lend us their wet tile saw and away we went.  The hubby did a fantastic job!
There never was anything above the stove, but we wanted to add extra storage and a microwave, so we had a custom cabinet built by a cabinet maker here in our area.
They did a fantastic job.  We even had them route out the doors to match the look of the cabinets we already had.  All it took was a little primer and paint to complete the cabinet and it looked as if it had been there all along.
I wanted to tile behind the stove, but with the budget already tight and me wanting to change it up a little bit, I went searching for an alternative to the subway tile.  Of course I wanted something vintage, if I could find it.  I found this plastic backsplash panel at Menard's and it mimics vintage tin tiles perfectly.  It cost $19.95 for a 2′ x 4′ section.  Done!  AND it's really easy to clean.  Love!
Once the LAGAN Beech butcher block countertop (purchased from IKEA) was installed next to the stove, the hubby got to work building a cubby space underneath it to hold cookbooks:
There you have it.  The evolution of our kitchen.  It's taken almost a year to complete, but we think it was worth the time and effort.  Don't you?
_____________________________________________________________
Okay, so now for the real reason why you're all here: THE PARTY!!
So let's see what you've been up to while I've been gone . . . grab a button and let the Transformation Tuesday party begin!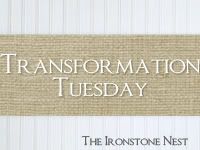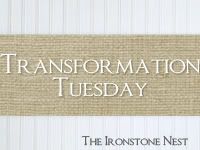 Here are the rules:
1.  Please become a follower or email subscriber of this blog.  I thank you for the support!

2.  Please link to something that is relevant to this blog's topics (please feel free to link up to 2 projects per blog).  For example, a remodel, room reveal, recipe, before & after, craft, or DIY project.  No businesses or Etsy shop links please.  This is for projects ONLY.

3.  Link to your specific post, NOT your home page, please.

4.  Please add my Transformation Tuesday button or a link to this post to your post so more people can learn about the party . . . the more people that see the button, the more people that will see your posts, and therefore, your blog!

5.  Please check out a few other linked projects and be sure to leave a comment and share some blog love!  This is a party after all.
Thank you for reading!

XOXO
Laura
Americans who are facing divers health problem, such individuals can get medicines from the Web without order. To buy remedies online from a having a good reputation source is safe. People get millions divers medicaments online. Far-famed are medicines which are used to reduce treat pain caused by cramp etc. There are varied other medications. What about how does cialis work and sexual heartiness problems? Likely every man knows at least something about Does Cialis Work. Also known as erectile malfunction is defined as the inability to attain an erection suitable for intercourse. Luckily many problems with sexual soundness can be solved. Sometimes men who drink excessively like amphetamines find it embarrassing to get an erection and turn to erectile disfunction medicines for a temporary solution. If you have unpleasantness getting an erection, it's vital to see a competent health care professional before pursuing any sort of medicines. Do not take more of Cialis or any other preparation than is prescribed. Do not use out-of-date remedies. Take them to your local dispensary which will dispose of them for you.