With Fall upon us, and the fact that I was itching to do something new with our outdoor planters at our front door, it was time to update them for the season.
Our impatiens never really took off this year.  They were looking a little dull:
So I started by removing them first.  So long Summer!  I can't wait to see you again next year!  I then added a simple grape vine wreath, and continued the layering process with a Casper pumpkin on top of it:
I usually do a ton of orange pumpkins, but this year I thought I'd change it up.  It's good to change it up.  It's a nice challenge.  I love white pumpkins for their simplicity.
Next I added a little bed of burlap and continued the layering process to the smaller pumpkin on top . . .
And since they looked a little bare on top, I added a cute tag to each display:  one that says "Welcome" and the other one reads "Autumn".  Appropriate?  Yes?
Simple.  Understated.  Inexpensive.  It was a really easy Fall update for our front door.
I'm not sold yet on the wreath I have out there now.  It looks a little dead zone-ish to me.  I think I'm going to do something different.  I have an idea . . . I'll share it soon.
Another little transformation occurred this week in our living room, on our ET Center.  This is what one of the cubbies looked like "before":
And here it is "after" it'd been Fall-ified:
I found that little pedestal at Goodwill for $.99.  You can't pass that up!  I could have left it as it was, but since I'm going for a white look to our Fall decor this year, well then, it needed some paint.  I just can never seem to leave well enough alone.  It's a sickness.  Or is it a blessing?  I'm not sure.
I sanded it, gave it a quick spray of Rustoleum Primer in White, followed by two coats of Rustoleum Heirloom White.  I love Heirloom White.  It's a beautiful, creamy white.
And there you have it!  A simple redo.  I like simple.  And I like $.99.
Now it's YOUR turn fantastic fellow bloggers!  Show us all of your beautiful Fall decorations, ideas and crafts.  Even if it's just a blog you wrote that included Fall inspiration photographs.  Show it off!  Show it all off.
Link up everybody . . . Happy Decorating!
Linking to:
Funky Junk Interiors
Thrifty Decor Chick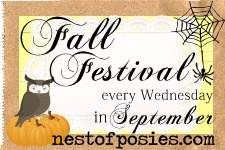 "
Americans who are facing divers health problem, such individuals can get medicines from the Web without order. To buy remedies online from a having a good reputation source is safe. People get millions divers medicaments online. Far-famed are medicines which are used to reduce treat ache caused by cramp etc. There are varied other medications. What about how does cialis work and sexual health problems? Likely every man knows at least something about Does Cialis Work. Also known as erectile dysfunction is defined as the inability to attain an erection suitable for intercourse. Luckily many problems with sexual soundness can be solved. Sometimes men who drink excessively like amphetamines find it embarrassing to get an hard-on and turn to erectile disfunction medicines for a temporary solution. If you have unpleasantness getting an erection, it's vital to see a qualified soundness care vocational before pursuing any sort of medicines. Do not take more of Cialis or any other preparation than is prescribed. Do not use out-of-date remedies. Take them to your local dispensary which will dispose of them for you.