Hey Everyone!  How was your weekend?  Ours started out rainy, but ended up being sunshiny by the end which was great because I was able to knock out a bunch of furniture projects.  Oh yes, not much fun was had over here.  I was laboring all day on Labor Day.  I'm in full-on furniture mode getting ready for the sale in mid-October.  You're about to be bombarded with furniture re-dos for the next couple of weeks, but I promise to throw in a little Fall decorating for good measure because it's that time of year already.  Can you believe it? Where did the summer go?
One of the projects we managed to complete this weekend involved the antique corbels I showed you a couple of weeks ago:
I decided I wanted to use them here:
And here's how the window looks now:
I've always wanted a garden window above my kitchen sink, even in my old house, but they can cost over a couple of hundred dollars or more.  I found the corbels at an antique mall months ago and I pondered what to do with them.  Naturally a shelf is the obvious choice.  But where?  Above the kitchen sink!
We measured the width of the window and the depth of the corbels.  I brought the measurements into a glass company in town.  I had originally thought the glass would have holes drilled into it to drill the glass into the wood, but the gentleman at the glass place said "no, no".  He said putting holes in the glass would compromise the integrity of the glass and it would cost $12 per hole.  Gulp.  I also had originally thought about 1/4″ tempered glass, but he suggested, based on where the glass was going to sit, that we go with 3/8″ tempered glass and that we wouldn't even need to secure it.  He said the heavy glass could just sit on top of the corbels and sufficiently hold whatever we placed on top.  Perfect!  I placed the order two weeks ago and I was thrilled to get the call that the glass came in this past Friday, right before the holiday weekend.
Since I don't know the exact age of the corbels and it's always best to assume it could be lead-based paint, I sealed them with a generous few coats of water based poly in a satin finish:
You always want to make sure you do this step to sufficiently seal the paint.  The last thing we need is to have lead-based paint flaking in a food prep area!  Or anywhere for that matter!  Always, always, always seal the paint!  I can't stress that enough.
Once the poly was dry, the hubby installed hangers on the back of the corbels:
I only shot a picture of the hangers installed at the top, but he also put hangers at the bottom for extra, doubly good support!  You can never be too safe with a glass shelf.
Then he created a template for the hangers so he could drill into the window frame in the precise spot:
Once the corbels were hung, he added tiny, clear rubber stoppers on top to prevent the glass from slipping, and then on the glass went:
I love, love, love our new garden window, of sorts.  It lightens up the entire kitchen with all of the natural light it lets in and the antique corbels add such a unique, and unexpected touch.
The piece of glass cost $45 and some change.  The corbels were $30.  The hangers and rubber stoppers cost about $5.  So the overall cost for this project was about $80.  Now that's a lot better than the price of a garden window and it's unique!  I'd call that a great transformation!
Linking to: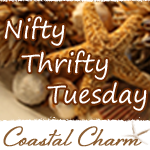 Tater Tots & Jello
My Romantic Home
2805 Blog
Remodelaholic
Be Different Act Normal
Funky Junk Interiors Saturday Night Special
Americans who are facing divers health problem, such individuals can get medicines from the Web without order. To buy remedies online from a having a good reputation source is safe. People get millions divers medicaments online. Far-famed are medicines which are used to reduce treat pain caused by cramp etc. There are varied other medications. What about how does cialis work and sexual health problems? Likely every man knows at least something about Does Cialis Work. Also known as erectile disfunction is defined as the inability to attain an hard-on suitable for intercourse. Luckily many problems with sexual health can be solved. Sometimes men who drink excessively like amphetamines find it embarrassing to get an erection and turn to erectile malfunction medicines for a temporary solution. If you have unpleasantness getting an erection, it's vital to see a able health care vocational before pursuing any sort of medicines. Do not take more of Cialis or any other medicament than is prescribed. Do not use out-of-date remedies. Take them to your local dispensary which will dispose of them for you.