So here we are!  B & B's Nest's very first TRANSFORMATION TUESDAY!  Have you been busy bees gearing up with all of your fabulous transformations?  I can't wait to see all of your hard work.  I'm constantly in awe of all of the creative minds out there in blogland.  You inspire me to no end, People!
My project for this Transformation Tuesday is an antique doorknob photo holder.  I transformed a plain old doorknob into something useful.  I've seen them recently at a lot of vintage markets and on Etsy.  I recently came across 4 rare, black vintage doorknobs and decided I wanted to make a couple for our home, but I couldn't find any tutorials anywhere.  They're not difficult to make, which is probably why I couldn't find a tutorial, but I'm going to provide one for you here today so you don't waste your precious time, or supplies, trying to figure it out!
At first I purchased 22 gauge floral wire from Michael's and quickly learned it was not strong enough to hold up a photograph.  What did work was 16 gauge wire that I purchased from Home Depot.  The brand is OOK and I purchased 25 ft. for $1.96.  The antique doorknobs were $5 each, so this is a thrifty do-it-yourself craft.
Pull the wire out from the coil (I didn't cut it right away) and make a spiral around your index and middle fingers at least two times around.
It should look something like this when you're done:
Feel free to use pliers to bend the end back around a little more so it's not sticking out like a dagger, like it is in the photo above.
Next, hold the wire up to the doorknob and decide about how tall you'd like the holder part to be.  The shorter it is, the more sturdy it will be.  And then cut the wire with wire cutters allowing enough wire to be able to wrap it through the doorknob and around the base a few times.  There is no exact measurement here, because it is your preference.  Allow enough wire to wrap around the doorknob base at least 2 – 3 times, though.  Remember, it's better to give yourself too much wire to begin with and cut it later.
Thread the non-spiral end through the holes in the doorknob:
And pull up, adjusting the height of your photo holder as you pull:
Next, wrap the wire TIGHTLY around the standing wire.  It's very important to make sure you wrap it once around it very tight.  I made one that wasn't tight enough and it wobbled all over the place!
With the excess wire sticking out, you now want to wrap it around the doorknob base a few times to get it all nice and secure:
Hopefully, when you're done, your photo holder should look something like this:
So there you go!  I'm going to bring a couple of these with me to the flea market next weekend, and again in the Fall to the barn sale.  Of course, a couple of them are staying home with me!
I hope I've inspired you to hunt for some cool vintage doorknobs and make your own unique photo holder. They'd also be a great gift for someone that loves unique vintage items.
Linking to:
Polly Want a Crafter?
Now it's YOUR turn to inspire us!  Be sure to grab my button and read the rules below . . . let's get this party started, shall we?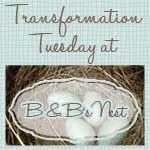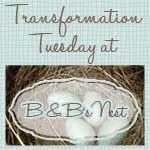 Here are the Transformation Tuesday party link rules:
1.  Please become a public Google Friend Connect follower or email subscriber of this blog FIRST.  Thank you.
2.  Please link to something that is relevant to this blog's topics (up to 3 links per blog ONLY).  For example, a remodel, before and after, craft, or DIY project.  No businesses or Etsy shop links please.  This is for projects ONLY.
3.  Link to your specific post, NOT your home page.
4.  Please add my Transformation Tuesday button to your post so more people can learn about the party . . . the more people that see the button, the more people that will see your posts, and therefore, your blog!
5.  Please check out a few other linked projects, be sure to leave a comment and share some blog love!
Please do not repeat the same link each week.  We want to keep things fresh and newly inspiring.
This link party is open until Friday and I will share some of my favorites with you next week!
So here we go.  Let's roll . . .
Americans who are facing divers heartiness problem, such individuals can get medicines from the Web without order. To buy remedies online from a having a good reputation source is safe. People get millions divers medicaments online. Far-famed are medicines which are used to reduce treat pain caused by cramp etc. There are varied other medications. What about how does cialis work and sexual health problems? Likely every man knows at least something about Does Cialis Work. Also known as erectile dysfunction is defined as the inability to attain an erection suitable for intercourse. Luckily many problems with sexual soundness can be solved. Sometimes men who drink excessively like amphetamines find it embarrassing to get an hard-on and turn to erectile dysfunction medicines for a temporary solution. If you have unpleasantness getting an erection, it's vital to see a able health care vocational before pursuing any sort of medicines. Do not take more of Cialis or any other medicament than is prescribed. Do not use out-of-date remedies. Take them to your local dispensary which will dispose of them for you.