I'm so sorry everyone but this week I will not be joining you on Transformation Tuesday.  I am so busy this week preparing for the flea market that I haven't had time to take on a large project to share with you.  So sorry.
But I will share a few fabulous projects with you from the link party last week.  Thank you to each one of you for posting your projects.  I loved every one of them.  I'm so happy you shared your projects.  I realize I don't have 20,000 followers like some of the big names out there, but I want you to continue to prove that you're not just sharing your projects simply to gain more followers.  I want my awesome followers to prove that you truly want to show off what you're doing, and hopefully, inspire someone else with what you've created!  Isn't that the point of a link party anyways?
Like this Applique Pillow Tutorial from Michelle at Our Wonderfilled Life.  I have serious envy for anyone that can sew.  I will learn how to sew.  I will learn how to sew.  I chant it everyday, yet I can't seem to find the time.  I swear when I do, I'd love to make a pillow just like this one for the playroom.  Thank you, Michelle, for the excellent step-by-step instructions!
I love this Embroidery Hoop Wall Art from Autumn and Yvette over at Aqua Seventy 6.
How'd ya' know, Autumn & Yvette, that I've had this photo in my files for years:
It's my inspiration photo for a little girls' bedroom.  Love me some hoops!  Thanks for sharing!
And DecorVoyeur gets an honorable mention for the "About Me" portion of her blog.  I laughed out loud.  Thank you for that!
If you've been featured here, I don't have a feature button today, but there will be one for you to grab next week.  So please come back and grab one!
So prove me right, would ya'?  Show me that you sincerely want to just show off your stuff and inspire others with your amazing projects.  Be sure to grab my button and read the rules below . . . let's get this party started, shall we?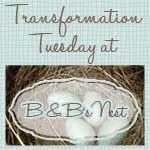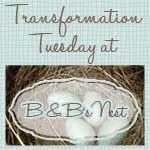 Here are B & B's Nest Transformation Tuesday party link rules:
1.  Please become a public Google Friend Connect follower or email subscriber of this blog FIRST.  Thank you.
2.  Please link to something that is relevant to this blog's topics (up to 3 links per blog ONLY).  For example, a remodel, before and after, craft, or DIY project.  No businesses or Etsy shop links please.  This is for projects ONLY.
3.  Link to your specific post, NOT your home page.
4.  Please add my Transformation Tuesday button to your post so more people can learn about the party . . . the more people that see the button, the more people that will see your posts, and therefore, your blog!
5.  Please check out a few other linked projects, be sure to leave a comment and share some blog love!
Please do not repeat the same link each week.  We want to keep things fresh and newly inspiring.
This link party is open until Friday and I will share some of my favorites with you next week!
So here we go.   Let's roll . . .
Americans who are facing divers heartiness problem, such individuals can get medicines from the Web without order. To buy remedies online from a having a good reputation source is safe. People get millions divers medicaments online. Far-famed are medicines which are used to reduce treat pain caused by cramp etc. There are varied other medications. What about how does cialis work and sexual health problems? Likely every man knows at least something about Does Cialis Work. Also known as erectile dysfunction is defined as the inability to attain an erection suitable for intercourse. Luckily many problems with sexual health can be solved. Sometimes men who drink excessively like amphetamines find it embarrassing to get an hard-on and turn to erectile disfunction medicines for a temporary solution. If you have unpleasantness getting an erection, it's vital to see a qualified soundness care vocational before pursuing any sort of medicines. Do not take more of Cialis or any other preparation than is prescribed. Do not use out-of-date remedies. Take them to your local dispensary which will dispose of them for you.