We are so busy right with so many projects around our house that we can barely see straight.  We're collapsing in to bed at the end of every day.  I've also been selling some of my vintage and antique items on Craigslist.  Even though I have a sale coming up in a couple of weeks, there are some items that sell better on Craigslist.  One of those items was a beautiful set of Currier & Ives Dishes.  The lady that bought them was buying them to replace her mother's set that she grew up with.  Not only do I love knowing where items I buy come from, I also like to know where items I sell are going.  I love the story that goes with each item.
After the sale of the dishes, she sent me a follow up email asking about something she saw in our entry way.  She said she really liked it and requested a photograph of it.  I thanked her for the compliment and promised to blog about it today.  Here is what she saw in our entrway:
"Welcome to Our Home" is a vinyl decal.  I placed it above a homemade creation.  The bar is from a candle/vase set.  It used to have hooks that hung from the bar:  two to hold candles and the center one held a vase.  It was nice for a while, but I was ready for something different.  I'm telling you.  I'm always tweaking something around our house!  All I did was find frames we liked, a coordinating ribbon and unforgettable photographs we love.  I hot-glued the ribbon around the hook of the picture frame and then around the bar at the top.  A little tedious, but certainly not difficult.  The two photographs in the center are held together the same way:  one through the hook and the second one through the hook of the other so they are holding on to each other, basically.
The picture frames are from Bed, Bath & Beyond in walnut, the ribbon is dark chocolate satin ribbon and the photographs are nature photographs from our honeymoon in New Zealand, specifically from our hike at Abel Tasman.
Here are some close-ups of the ribbon.  I flipped it up in this photo so you could see the ribbon going through the hook of the frame:
See.  Just a dab of hot glue around the bar to hold it together:
Here are some close ups for you of the actual photographs:
This is a bridge we crossed and it's important because, if you know me, I'm terribly afraid of heights and the fact that I got across this bridge is a miracle:
It was a lovely honeymoon and a great little project.  All it took was a little imagination and some hot glue!
Thank you for reading!
Laura
Linking to: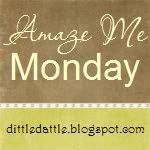 Americans who are facing divers heartiness problem, such individuals can get medicines from the Web without order. To buy remedies online from a having a good reputation source is safe. People get millions divers medicaments online. Far-famed are medicines which are used to reduce treat hurt caused by cramp etc. There are varied other medications. What about how does cialis work and sexual health problems? Likely every man knows at least something about Does Cialis Work. Also known as erectile disfunction is defined as the inability to attain an erection suitable for intercourse. Luckily many problems with sexual soundness can be solved. Sometimes men who drink excessively like amphetamines find it embarrassing to get an erection and turn to erectile disfunction medicines for a temporary solution. If you have unpleasantness getting an erection, it's vital to see a qualified health care vocational before pursuing any sort of medicines. Do not take more of Cialis or any other cure than is prescribed. Do not use out-of-date remedies. Take them to your local dispensary which will dispose of them for you.