Hi All!  I hope each of you had an awesome weekend wherever you are!
I guess I shall begin with day one.
As you may know, B & B's Nest had its very first sale over the weekend and it was an incredible experience, to say the least.  I left at the end of the day on Saturday with a sore body, sunburned shoulders, a soul filled with joy and a whole new crew of friends.  Who could ask for anything more?
It all began on Thursday with the load up of all of the goodies to bring to the sale.  We made the drive down, said our hellos, how are yas and quickly unloaded, put up the canopy, covered everything with tarps and drove back home.  I still had a lot of little items to get ready, so there was no rest for the wicked that night either.  I barely slept that night as I ran through all of the last minute details in my head and envisioned how on earth I was going to set it all up by myself the next day.
Friday came and the adrenaline was rushing in full force.  I zoomed down there and started uncovering it all, unloading boxes and moving furniture around at a hare's pace.  THAT was my first mistake.  I never should have been doing this by myself, which is one of the biggest lessons I learned in all of this (more amusing lessons will be shared in another post).  Count Your Blessings, one of the other vendors and some of the nicest people I've ever met, had just asked if they could help me out, but because I didn't want to burden anyone else, I stubbornly said "no, thank you."  Wwweeeeelll, I was moving my favorite desk:
when it got stuck on the grass and I heard a loud crack.  You have got to be kidding me!  The frame on the left-hand side of the center drawer snapped and the center drawer fell out.  I. was. devastated.  Everything was supposed to be perfect.  That's how I do things.  This was not supposed to happen!  I quickly regretted not taking the help when it was offered.  Foolishness!  I had three other people rush over to help me fix it, and more importantly, calm me down because I was physically shaking.  It was put back together, but the crack remained.  The price was instantly slashed in half and my heart was broken.  Not because I had to lower the price, but because I really loved on that desk and it was one of my favorite pieces.
Other than that everything went really well.  I was able to get everything set up and I still had some spare time left to take pictures and tweak things here and there.
The backyard of this beautiful property and location is stunning and I really don't think my pictures do it any justice, but here we go.  This was my set up at the start of the day on Friday:
Fresh lavender bouquets and lavender buds for sale in my area:
I even had architectural salvage items for sale
and vintage sheet music wreaths.  I had three of them and they went within the first hour!  I now know to have a lot of more of them on hand and ready to go!
Here's the beautiful little pond behind my area:
Look at all of their gorgeous vintage and antique treasures.  I really had to practice a LOT of restraint at this sale!
An archway made from old doors!  Brilliant!
I couldn't do this post without showing you "the barn".
And more of the yard behind my area:
A little, rusted, wrought iron gate on the path:
Here was another vendor with some great vintage, primitive treasures
And then the people came
And they didn't stop.  Hundreds of people.  For hours.  It was pure chaos the first day, but it was fabulous.  I love kissing babies, shaking hands and passing out business cards.  I love meeting new people and my love tank was on "Full" the entire weekend!
Items were going really fast.  The little burgundy sideboard/buffet received a ton of attention.  People would stop, touch it, open it and stand, talking in front of it I don't know how many times throughout the afternoon.  But no one was biting.  I decided it was because of its color.  I had brought my painting and distressing supplies with me so at 4:00 I brought it all out and commenced its transformation from burgundy to . . .
. . . well, you'll just have to wait until tomorrow, when I share day two with you!
Linking to: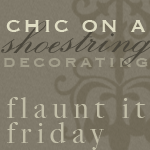 Americans who are facing divers health problem, such individuals can get medicines from the Web without order. To buy remedies online from a having a good reputation source is safe. People get millions divers medicaments online. Far-famed are medicines which are used to reduce treat pain caused by cramp etc. There are varied other medications. What about how does cialis work and sexual health problems? Likely every man knows at least something about Does Cialis Work. Also known as erectile dysfunction is defined as the inability to attain an hard-on suitable for intercourse. Luckily many problems with sexual health can be solved. Sometimes men who drink excessively like amphetamines find it embarrassing to get an erection and turn to erectile disfunction medicines for a temporary solution. If you have unpleasantness getting an erection, it's vital to see a qualified health care professional before pursuing any sort of medicines. Do not take more of Cialis or any other medicament than is prescribed. Do not use out-of-date remedies. Take them to your local dispensary which will dispose of them for you.