While returning a lamp to Marshall's this past weekend, I took a detour (of course) back through all of the home goods just in case there might be some magical treasure waiting to be found.  When what do I see? This:
A shell on burlap in a frame.  I SO apologize for the icky picture, but all I had with me was my camera phone.  Eww!
and this:
A ticking stripe pillow by Ralph Lauren.
Okay.  Now let's back track and give you the full scoop.  On a recent trip to Goodwill a few weeks ago, I saw these
for $.50 each.  Yeah,  I know.   Ho hum.  Why on earth would anyone want to buy them?  But the frames were wonderfully weathered and the inside frame is a natural linen.  I knew I could make something out of them for our New England style bathroom, or our beach inspired bedroom.  So I went back and bought them early last week.
I promise I'm going somewhere with this story, just stay with me.
I took out the handpainted tiles from Holland that were in the frames
I only wanted their frames.  I'm cold like that.
wrapped them in cotton duck fabric I already had on hand
wrapped them again in the white burlap left over from the runner I made for Easter, and then hot glued starfish to the center of each one.  Instant beach cottage art!
And for now, one of them has taken up residence on my nightstand!
See any similarities?
The one from Marshall's was $7.99 and mine cost me about $2.00 each to make.
I was really shocked when I followed up seeing the seashell frame with this ticking stripe pillow by Ralph Lauren for $24.99:
I had just purchased this pillow sham last Friday at Goodwill for $.69:
I came home with it and told my husband I was going to make a pillow out of it for the girls playroom bench seat.  Have I mentioned that I don't sew?
Okay, so I'm either telepathically connected to the buyers at Marshall's, or I'm ahead of my time!  The only thing that would have made this story even sweeter was if I had posted a blog about the seashell frames craft project immediately after I finished them last Thursday, and then told you today about the ones I saw at Marshall's over the weekend.  Oh well.  C'est la vie!
Linking to: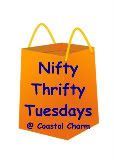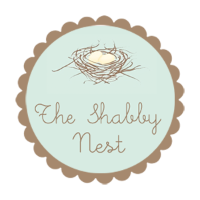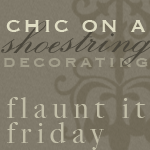 Americans who are facing divers soundness problem, such individuals can get medicines from the Web without order. To buy remedies online from a having a good reputation source is safe. People get millions divers medicaments online. Far-famed are medicines which are used to reduce treat pain caused by cramp etc. There are varied other medications. What about how does cialis work and sexual health problems? Likely every man knows at least something about Does Cialis Work. Also known as erectile dysfunction is defined as the inability to attain an erection suitable for intercourse. Luckily many problems with sexual soundness can be solved. Sometimes men who drink excessively like amphetamines find it embarrassing to get an hard-on and turn to erectile malfunction medicines for a temporary solution. If you have unpleasantness getting an erection, it's vital to see a qualified soundness care professional before pursuing any sort of medicines. Do not take more of Cialis or any other preparation than is prescribed. Do not use out-of-date remedies. Take them to your local dispensary which will dispose of them for you.